Everything You Need To Know About Unarmed Security Guards
Are you searching for an unarmed security guard in or near Lake Havasu City, AZ? Or perhaps you are asking "What is an unarmed security guardwhat does an unarmed security guard do?" Unarmed security guards have the duty of monitoring a person or location to ensure their safety. For example, they monitor retail stores, concert halls, and office buildings to prevent crime and much more.
Unarmed security guards do not carry any firearms as armed guards do. They are there to investigate activities that may seem out of the ordinary, monitor surveillance, and report to law enforcement if required. The daily duties of a security guard can vary depending on the location and their current role. For example, retail store security guards have the goal of preventing theft and monitoring surveillance. Meanwhile, unarmed guards that work at a concert hall are responsible for checking bags, etc. Furthermore, no matter where an unarmed guard works, he must be professional and vigilant at all times.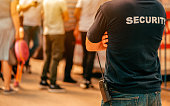 Becoming an Unarmed Security Guard
Depending on the state you reside in, requirements will vary when it comes to being an unarmed security guard. However, even as an unarmed guard, you must still meet the requirements of your state in order to receive a license. While you will not have to undergo the same type of training as an armed security guard, you will still need to learn how to prevent crime, operate surveillance cameras, and other duties of your position.
Unarmed security guards should possess a high school diploma or GED. Guards must also be physically fit to patrol and move quickly in the event of an emergency. It is also important for guards to undergo CPR training.
Duties of an Unarmed Security Guard
Some duties that unarmed security guards are responsible for include:
Patrol premises to prevent crimes such as vandalism and theft

Answer questions from customers and visitors looking for directions, etc.

Contact law enforcement in the event of an emergency

Reunite children that are unaccompanied by their guardians
Ideally, most employers prefer a candidate that has some type of law enforcement training or experience, although it is not typically required for this type of position. When doing a job search, you may also find that it is common for employers to prefer candidates with a military background. The perfect candidate should also:
Be familiar with operating computers

Possess strong observational and communication skills

Be able to stand, lift, and walk for long periods of time throughout their shift